Currently two live photo presentations are on offer. Both are designed in a combination of photographs, music, sounds and live comments. If you are interested to learn more – please contact me HERE.
" Baobabs – Giants of the Savanna "
A photo live presentation which focuses on Baobabs of the Southern African Region. This presentation is the result of several journeys. I visited Baobab locations in Namibia, Botswana, Zambia, Malawi, Mozambique, Zimbabwe and South Africa. There I collected stories, myths and other remarkable on site information about the trees. For approximately 90 miuntes I will take you on a very individual journey to the giants and introduce interesting facts about them. For example how the trees and their fruit, bark, leaves and roots were used in former times and today by the people living in the vicinity. Discover the World of Baobabs with me!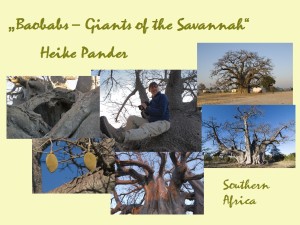 "Travel Acquaintances"
A live photo presentation about my motorcycle adventure tour in search of motives for my paintings and stories that I came about while travelling in the Southern African Region. Most of my recent animal and Baobab portraits were travelling acquaintances that I have met during said motorcycle tour. For example the giants in Tsumkwe, Namibia, or in the Northern part of South Africa. Epupa Falls is presented as well as the giants living in Malawi, Sambia, Simbabwe – along the road or hidden deeply in the bush. The presentation is about the people I have met, spectacular landscapes, animals and plants I have come accross. The presentation takes 45 minutes.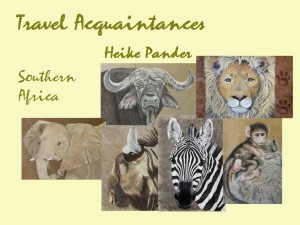 | Date | Topic | Location |
| --- | --- | --- |
| 26/09/2015 | Photo Presentation "Travel Acquaintances", including Baobab Specials, Exhibition "Grenzgänger", annual exhibition of Art Association "BBK Bonn Rhein/Sieg" | Rheinbrohl |
| 27/10/2014 | Photo Presentation "Baobabs - Giants of the Savannah", Flora, Botanical Garden | Cologne |
| 06/10/2014 | Photo Presentation "Travel Acquaintances", including Baobab Special, Kunstverein Bad Godesberg | Bonn |
| 21/09/2014 | Photo Presentation "Baobabs - Giants of the Savannah", Matinee, Umfulana Travels Agency | Kürten |
| 31/08/2014 | Photo Presentation "Travel Acquaintances", including Baobab Special, Finissage Flora, Botanical Garden | Cologne |
| 27/06/2014 | Photo Presentation "Travel Acquaintances", including Baobab Special, Fairtrade International | Bonn |
| 07/06/2014 | Photo Presentation "Travel Acquaintances", Pfingst-Braai, including Baobab Special, Namibia-Forum | Engelskirchen |
| 30/04/2014 | Photo Presentation "Travel Acquaintances", including Baobab Special, Art Exhibition "Art is opinionated", Kunsthalle | Siegburg |
| 05/04/2014 | Photo Presentation "Travel Acquaintances", including Baobab Special, Travels Agency "Wikinger-Reisen" | Bonn |
| 16/02/2014 | Photo Presentation "Travel Acquaintances", Including Baobab Special, Travels Agency Via Verde, Bad Godesberg | Bonn |
| 11/04/2013 | Photo Presentation "Travel Acquaintances", Including Baobab Special, Zoo | Cologne |